Windows Server 2022 has been on the market for a while now. This new Server from Microsoft is available in several variants, namely:
Windows Server 2022
So, after the successful previous versions of Windows Server, Microsoft has launched Windows Server 2022. This edition brings again the necessary improvements, making it the most secure and reliable Windows Server of the moment. In order to properly consider whether you should upgrade to 2022 or perhaps to 2019, we would like to show you the most important differences.
Windows Server 2019 vs 2022: the differences
A number of things have been improved in Windows Server 2022, but a number of functions are also disappearing.
Improved security
Security is becoming more important by the day, especially when it comes to Servers. In Windows Server 2019, the Microsoft Advanced Threat Protection, also known as ATP, was added. This ensured that malicious files based on Machine Learning were detected. However, Windows Server 2022 has not stood still, and has implemented even more developments. The 3 most important are:
Hardware root-of-trust
Firmware protection
VBS (Virtualization Based Security)

Cloud management and storage
As the cloud grows in popularity, cloud management and cloud storage are more important than ever. Improvements such as hybrid clouds with FOD have already been implemented in Windows Server 2019. Windows Server 2022 makes moving to the cloud even easier with its hybrid capabilities.
Windows Server 2022 provides enhanced cloud management and storage through the Azure-Arc environment management tool and Store Migration Service. These tools make it easy to transfer servers between clouds to VMs (virtual machines).
Some functionalities expire
Because a lot of new functionalities have been added over the years, Microsoft has decided to leave out a number of 'superfluous' functions. The features that are no longer supported are:
Start SConfig
iSNS (Internet Storage Name Service)
Shielded Virtual Machines
However, you don't have to worry about the new additions. You will not miss the expired functionalities.
Read all about using multiple Virtual Machines with Windows Server Licenses here.
Read all about Windows Server 2022 compatibility here.
Read everything you need to know about Windows Server Update Services here.
Windows Server 2019 vs 2022: comparison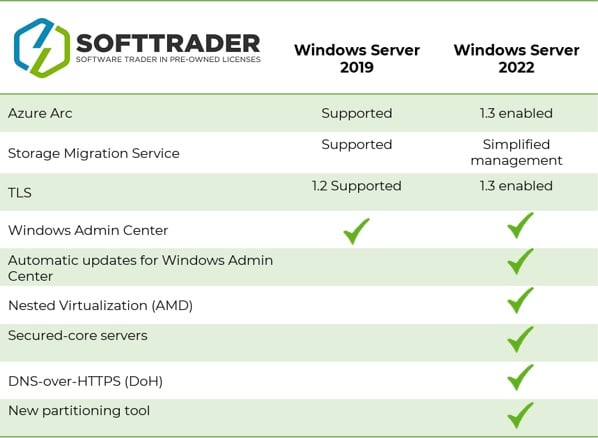 Conclusion
The differences between Windows Server 2019 and Windows Server 2022 mainly lie in security and cloud management. In addition, the latest version also offers longer support. Looking for cheap, pre-owned Windows Server licenses? Request a quote directly via the website!
Read more about Windows Server 2022 Standard vs. Datacenter.
Read all about Active Directory with Windows Server here.
Do you have questions? Contact us!
For more information about which Microsoft software and licenses are best for you, please contact us. We are available from Monday to Friday from 9 a.m. to 5 p.m.