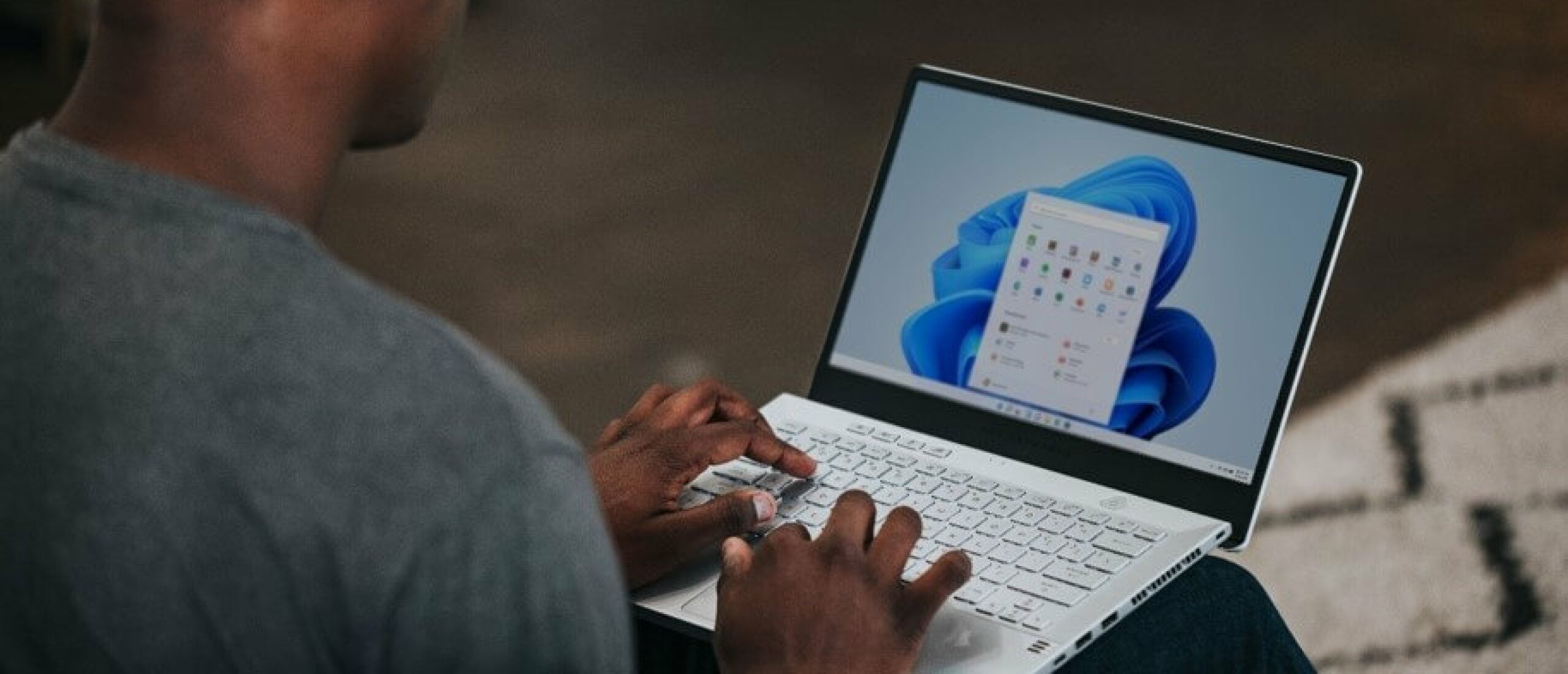 Microsoft Exchange Server: Everything you need to know
Microsoft Exchange Server is Microsoft's email, calendar, contact, scheduling, and collaboration platform. It is deployed on the Windows Server operating system (OS) for business use. Exchange Server is designed to allow users to access the messaging platform from mobile devices, desktops and web-based systems. This article explains what you can do with it and what the different versions of Microsoft Exchange Server mean.
What is Microsoft Exchange Server?
Exchange Server is an enterprise-level collaboration product that focuses primarily on sending, receiving, and storing email messages. In addition to messaging management, Exchange Server offers several other collaboration features, such as calendaring and tight integration with other Microsoft Office applications.
Exchange Server is known for its high availability (HA) features. These ensure continuous service in various outage scenarios. This includes design paths that can ensure service during single server outages or datacenter outages.
Microsoft Exchange Server 2019 vs. 2016 vs. 2013
Over the years, multiple versions of Microsoft Exchange Server have been released. These always brought new and better features with them. Below is a table with the most important points and below that an overview of the differences in features and an explanation of the most important features.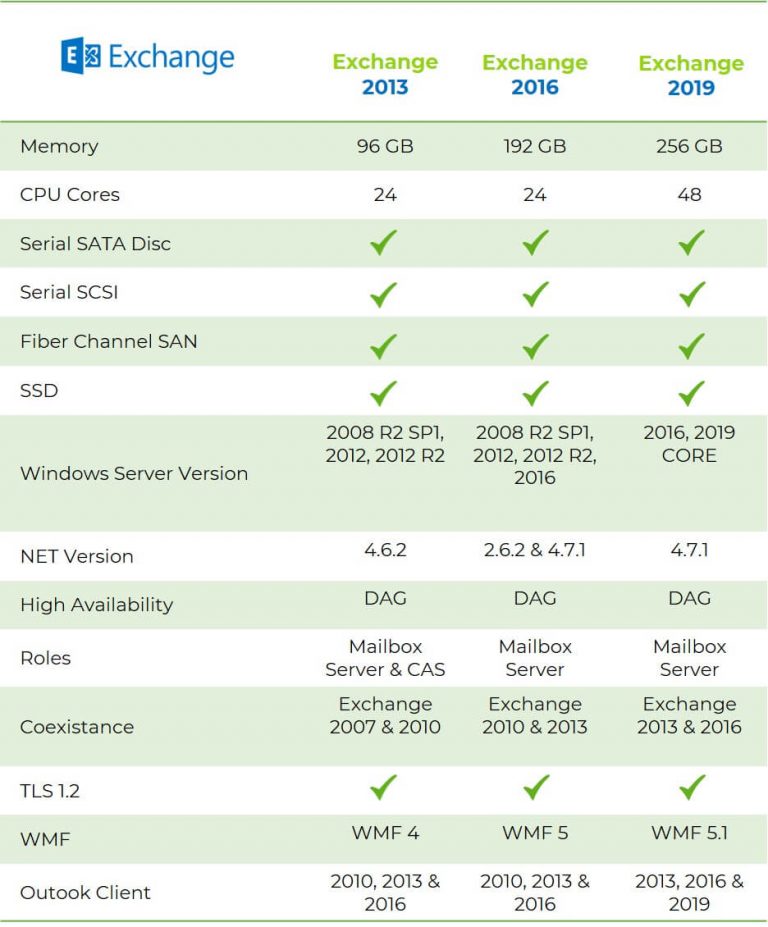 Microsoft Exchange Server 2013:
Exchange Administration Center: In the past, Exchange Server had the EMC (Exchange Management Console) and the ECP (Exchange Control Panel), which were web-based. In Exchange 2013, everything has been moved to the web console. This makes it easier to access from anywhere in the world.

Exchange architecture: In Exchange 2007 and 2010, five server roles were used to ensure that a single server did not shut down a computer or cause other performance issues. Now Microsoft has limited it to two server roles in Exchange 2013, the Client Access server role and the Mailbox server role.

Improved integration with SharePoint and Lync: Lync Server 2013 can now archive content in Exchange 2013 and use Exchange 2013 as a contact store. Microsoft has made it easier to integrate these three products into one business environment.
Microsoft Exchange Server 2016:
Faster searches: Nearly 20% of usage time is spent searching for items you already know or have. So MS Exchange 2016 has lent a helping hand there and made it short for you. Microsoft has researched the search patterns of Exchange Online users and used the information to reduce the time you spend searching by introducing "faster searches" and "useful search suggestions" among other things.

Access on mobile devices: After a long wait, Outlook comes on Windows 10, iOS and Android devices and also with much better productivity. The main highlights are: 2 tabs for reading email, Windows 10 gestures, quick filter to find emails faster, and calendar improvements.

Expand Archives: When an archive mailbox reaches 50 GB, the archive mailbox expands. Once the mailbox has reached a size of 50 GB, another archive mailbox is automatically created and linked together to form a chain of mailboxes that acts as one logical mailbox. When archive mailboxes are added, the content is distributed among the mailboxes to evenly distribute the load. Keep in mind that auto-expanding archives don't auto-expand your storage backend. Make sure you have enough storage space to accommodate such growth.


Microsoft Exchange Server 2019:
Performance improvement: Exchange Server 2019 also supports advanced compute resources to better serve your performance requirements. Exchange Server 2019 supports 48 CPO cores with 256 GB of memory. It is a huge improvement over previous maximum server configuration support of 24 CPU cores and 192 GB of memory in Exchange Server 2013 and 2016. Microsoft Exchange Server 2019 will now use Bing technology to provide fast and reliable search capabilities. This will be a very interesting feature from a database failover perspective for improved performance. With Exchange Server 2019, index data is stored in the database instead of individual files in the same folder.

Email Address Internationalization (EAI): Email Address Internationalization (EAI) reduces the hassle of sending emails in a global context. International email users are no longer limited to the restricted ASCII code (based on the English alphabet). The extended UTF-8 can be used instead. To achieve this, the address had to be converted in earlier versions of Exchange. This is no longer necessary. In Exchange 2019, EAI allows email addresses with international characters to be used.

Security: Each Exchange version is announced to be more secure than the last. However, the Exchange development team went the extra mile for Exchange 2019 to ensure maximum security for the latest release. Microsoft itself says that the new Exchange must be installed on the core edition of Windows server 2019. However, the AD FFL must be at a minimum of 2012 R2 or higher. This reduces the possible OS-level attacks.
What is the difference between Exchange Server Standard and Enterprise?
Exchange Server Enterprise is specifically intended for organizations that want to use Database Availability Groups (DAGs) for high availability. In addition to their own mailbox databases, a DAG's Exchange servers can also host copies of the mailbox databases of the other Mailbox servers in the group and thus ensure the automatic recovery of the mailbox database when, for example, a server, disk or network error occurs.

Exchange Server 2019 Standard is limited to 5 DAG mailbox databases and therefore quickly becomes unsuitable for multiple mailbox databases. Exchange Server 2019 Enterprise supports up to 100 linked mailbox databases per server.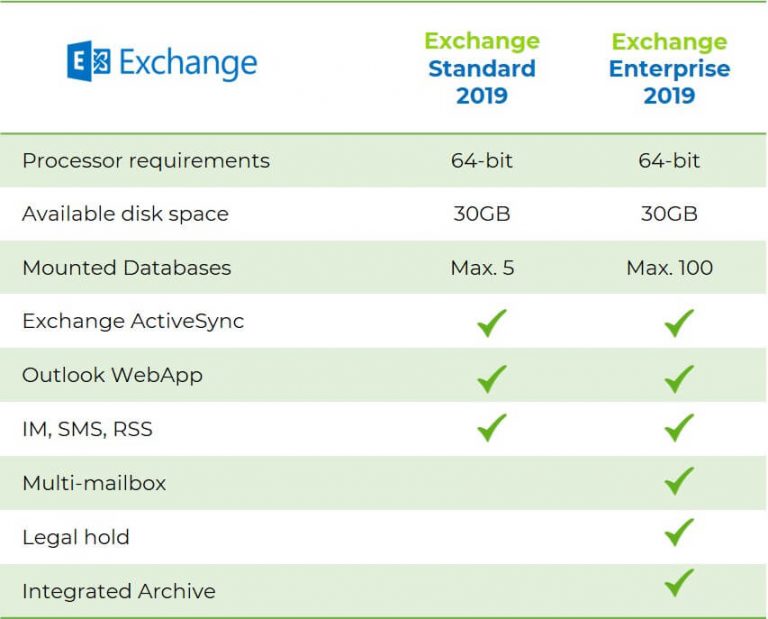 Exchange Server 2019 Requirements
The following requirements must be met to install Exchange 2019:
Exchange 2019 can be installed in Active Directory (AD) forests with existing Exchange 2016 and/or 2013 servers. No earlier versions of Exchange should be installed in the same forest as Exchange 2019.
All domain controllers (DCs) in the AD forest must be running Windows Server 2019 Standard or Datacenter, Windows Server 2016 Standard or Datacenter, or Windows Server 2012 R2 Standard or Datacenter.
The AD forest role level must be Windows Server 2012 R2 or higher.
The server hosting Exchange 2019 must use a 64-bit processor.
The server hosting Exchange 2019 must have between 128 and 256 gigabytes (GB) of random access memory (RAM).
New Technology File System (NTFS) is required for all disk partitions that contain the system partition, Exchange binaries, diagnostic logs, and transport database. Resilient File System (ReFS) can be used on partitions containing mailbox databases and transaction logs.
Read all about on-premise Exchange Server here.
Buy cheap Exchange Server licenses
Are you looking for cheap Exchange Server licenses? Softtrader is a specialist in second-hand Microsoft licenses, which saves you up to 70% on the new price. Softtrader offers Microsoft Exchange Server 2013, 2016 and 2019. Curious about the price? Request a quote now.
Do you have questions? Contact us!
For more information about which Microsoft software and licenses are best for you, please contact us. We are available from Monday to Friday from 9 a.m. to 5 p.m.