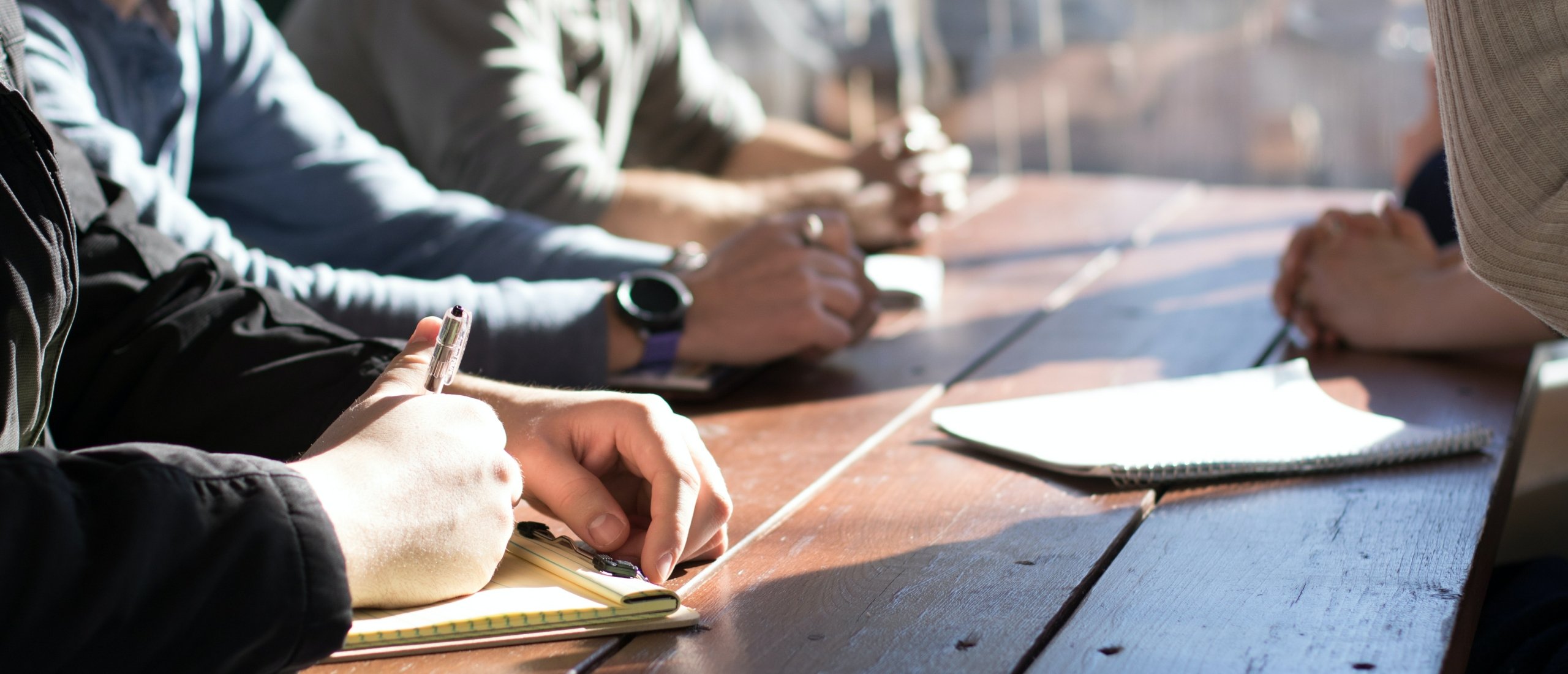 What is the latest version of Windows Server?
With the Microsoft operating system Windows Server you can manage both hardware and software. Windows Server is also the platform for server applications such as Exchange Server or SQL Server. Depending on your software requirements, you can choose between different Windows Server versions. More on which Windows Server versions are available, their differences and system requirements, you can read further in this article. 
Windows Server Versions
Windows Server comes in different versions. Here is a comprehensive list of the versions. Keep in mind that besides Windows Server 2012 the rest of the servers are still equipped with Microsoft support:
For each Windows Server version you can choose between the editions Standard and Datacenter. In the tables below you can see which features are included in each Windows Server version.
Latest version: Windows Server 2022
Windows Server 2022 is the most recent version of Windows Server. The operating system was released on August 18, 2021 and will be supported by Microsoft's standard support until October 13 2026. When the mainstream support ends, Windows Server 2022 will receive security updates by the extended Microsoft support which will last until 14 October 2031.
Windows Server 2022 includes new features that vastly improve its security and performance. For example, the advanced multi-layer security, protects you against potential threats. Another important addition to Windows Server 2022 are the secured-core servers. They safeguard your system from harm against attacks and keep your critical data and information safe. The secured-core servers are based on three fundamental pillars: Advanced Security, Simple Security and Preventive Defense. Another security-related addition to Windows Server 2022 is the application of TLS 1.3, which is the latest security protocol. This protocol provides a good level of encryption and secures all kinds of communications. Windows Server 2022 also includes nested virtualization intended mostly for systems with AMD processors. The nested virtualization provides you with flexibility and efficiency when you work in virtualized environments. Lastly, Windows Server offers Azure hybrid capabilities, which enables the expansion of data centres to Azure cloud platform simplifies.
Windows Server 2022 is available in 2 different versions: Windows Server 2022 Standard or Windows Server 2022 Datacenter. You can find their differences in the table below: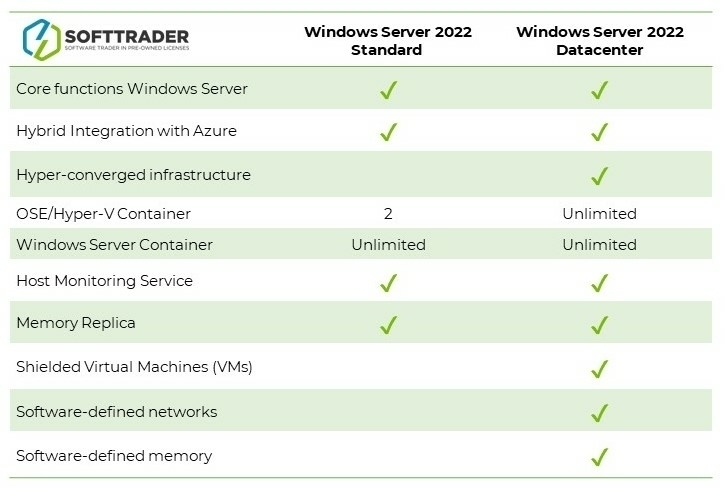 Windows Server 2022 system requirements:
Disk : Minimum 32GB of free space
RAM : Minimum 2 GB
Processor : 1.4 GHz processor
Display : 1024 x 768
Internet connection
Read more about Windows Server 2022 here.
Which version is suitable for your organization?
As mentioned above, Windows Server comes in different versions such as Windows Server 2022, 2019, 2016 and 2012. Many of the older versions are often only suitable in specific cases and may not always work well with modern setups. If your hardware is not up to date, or there is no budget to invest in Windows Server 2022, you can also purchase an older version. Below you can see the older Windows Server versions and mark the differences between them so you can choose the operating system that meets your software requirements.
Read more about the differences between Windows Server 2022 and Windows Server 2019 
Windows Server 2019
Windows Server 2019, just like Windows Server 2022, comes in a Standard and a Datacenter version. Below you can find the differences between the two: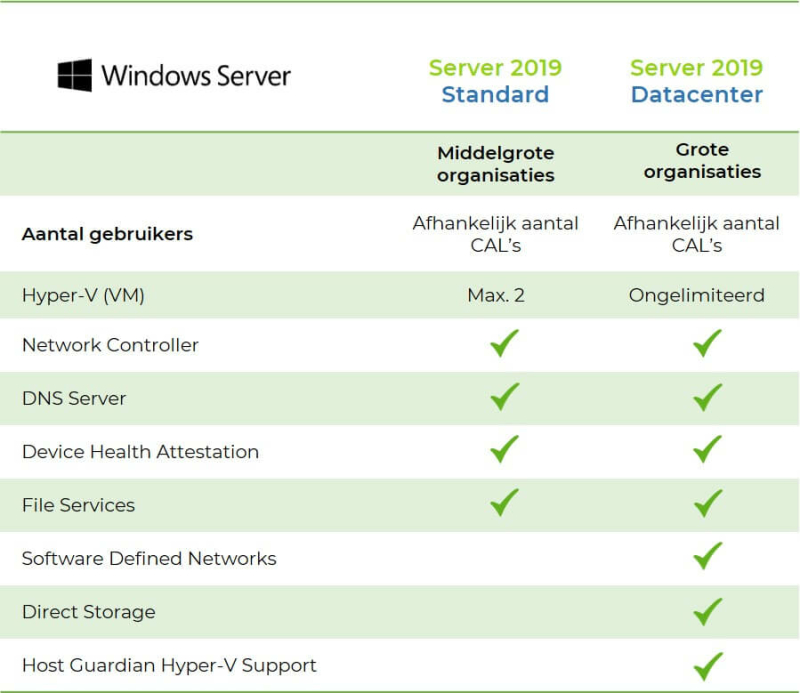 The standard support for Windows Server 2019 will continue until 09-01-2024. After this date, the subsequent extended support will last until 09-01-2029.
Windows Server 2019 system requirements:
Processor: 1.4 GHz 64-bit EMT64 or AMD64 processor required ( must support CMPXCHG16b, LAHF/SAHF and PrefetchWNeeds )
RAM: 512 MB (800 MB for VM installations).
Disk space: 96 GB
Disk controller: PCI Express compatible disk controller
Network: Gigabit Ethernet adapter (with 1 Gbps throughput & PCI Express compliant).
Other Requirements: Trusted Platform Module & Support of UEFI 2.3.1c based system and firmware.
Windows Server 2016 Essentials
This is a good option for small businesses that have few IT requirements. It is a complete basic solution for up to 25 users. Windows Server 2016 is also available in the 2 previously mentioned versions: Windows Server 2016 Standard or Windows Server 2016 Datacenter. The differences can be found below: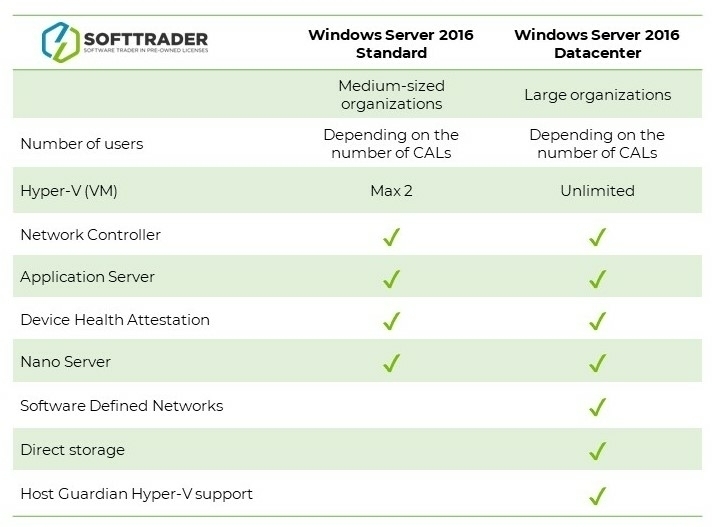 Support for Windows Server 2016 has already expired, but there is extended support with an end date of January 12, 2027.
Windows Server 2012 Foundation
This version is ideal for small businesses as it has a maximum of 15 users. It allows you to share files, provide remote access and provide excellent security. Moreover, this version is designed to support x64 socket, ideal for small businesses. The difference between Windows Server 2012 Standard and Windows Server 2012 Datacenter can be found below: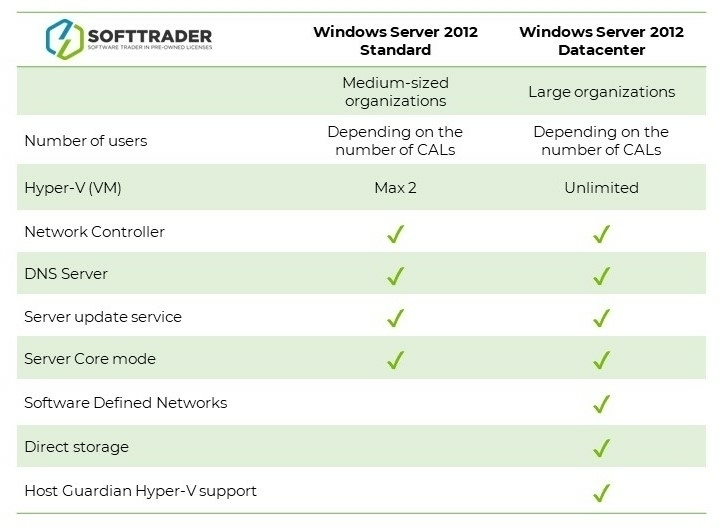 The end date of standard support and extended support has already passed, however, security updates will be released on 3 dates, each of which will be in effect for approximately one year. The last update will be on 15-10-2025 and will run until 13-10-2026.
Buy cheap Windows Server licenses
Are you looking for a cheap Windows Server license? Softtrader specializes in second-hand Microsoft licenses, allowing you to save up to 70% on the new price. Softtrader offers Windows Server 2022, 2019, 2016 and 2012.
Do you have questions? Contact us!
For more information about which Microsoft software and licenses are best for you, please contact us. We are available from Monday to Friday from 9:00 am to 5:00 pm.