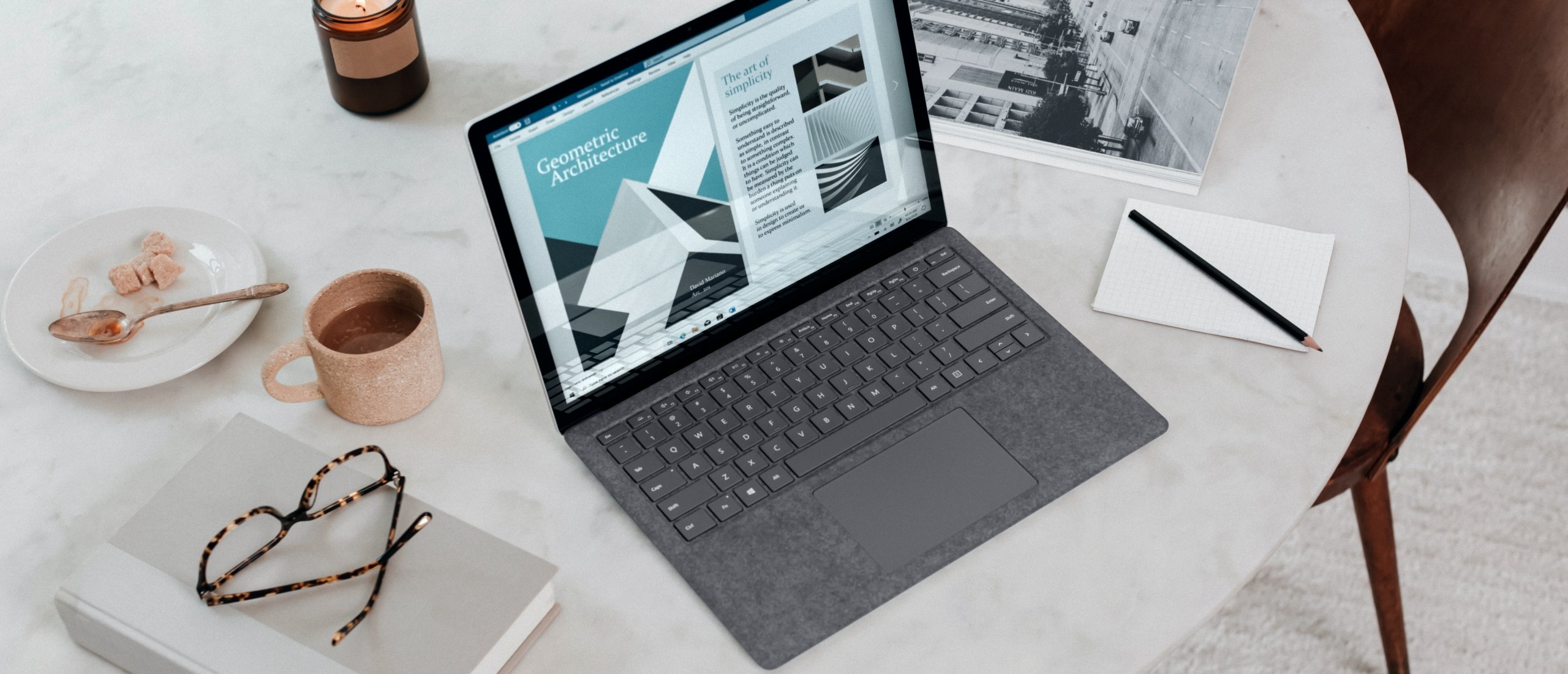 Microsoft Publisher: Features and Advantages
Microsoft Publisher is part of the Microsoft Office suite with which you can create professional documents like newsletters, flyers, posters and invitations, for example. In this article we will take a closer look at Microsoft Publisher's functions and how you can use them to your advantage in your designing process.
What is Microsoft Publisher?
Microsoft Publisher is a desktop publishing application with which you can easily create professional documents, marketing materials, and visual content from any type. Microsoft Publisher can be applied in various areas as you can create and design brochures, flyers, newsletters, business cards, greeting cards, posters, calendars, menus, certificates, and more.
With its powerful design tools, Publisher is a valuable asset for businesses, educators, marketers, and individuals looking to communicate their messages effectively through visually engaging materials. Whether it's for print or digital distribution, Microsoft Publisher's capabilities make it an indispensable tool for creative expression and effective communication.
Microsoft Publisher: Useful Features
User-Friendly Interface
You do not need a graphic design background in order to create beautiful designs with Microsoft Publisher. The user-friendly interface of Microsoft Publisher simplifies the design process. With the drag-and-drop function you can place any type of content such as text, images, graphics and other. This further contributes to the intuitiveness of Microsoft Publisher.

Extensive Template Library
You do not need to start with a blank canvas anymore because Microsoft Publisher offers you a rich library of professional templates to choose from. Based on your project and industry you can step on the built-in templates and personalise your designs to fit your target audience. If you are working in Marketing, you can align with your brand identity. From business cards to flyers, you can freely use Publisher in your content creations.
Customization Options
As mentioned above, you can customise not only templates but any type of object in Microsoft Publisher. This way you can, for example, match your brand's logo, colours, typography, and style with the designs you are creating. If you do not have a brand or are working on various projects, you can further experiment with the different layouts and creative effects.
Read more about what you can use Microsoft Publisher for.
Integration with other Office Apps
Microsoft Publisher integrates very well with other Office applications like Word, Excel, and PowerPoint. This empowers you to create consistent visual branding across all your marketing materials and presentations. By doing so you can further reinforce your brand's identity.
Print and Digital Publishing
With Microsoft Publisher you can diversify your marketing strategy by creating print-ready materials and direct mail campaigns, for example. You can also optimize your content for digital distribution through email, social media, and your website. Microsoft Publisher is a great tool to spread your brand's message and core values.
Real-Time Collaboration
Usually marketing campaigns are a team effort, which is why Microsoft Publisher provides a smooth collaboration among your creative team. Real-time collaboration enables multiple team members to work on the same document at the same time. This is great for brainstorming ideas, and providing instant feedback. This dynamic workflow ensures your projects evolve quickly and efficiently.
Microsoft Publisher 2021 Download
The most common options for obtaining Microsoft Publisher are as follows:
Microsoft Office 2021 Professional
Microsoft Publisher is included in the Microsoft Office Professional suite, which also includes other Office applications such as Word, Excel, PowerPoint, and Outlook. This version is generally used for personal use or by small(er) businesses. If this version is suitable for you, at Softtrader you can find pre-owned Microsoft Office licenses which are often more affordable than new Office licenses.

Microsoft Office 2021 LTSC
Another way to obtain Publisher is to purchase one of the Office LTSC (Long Term Service Channel) options. You can choose between Microsoft Office Standard and Professional Plus. These licenses are designed for medium to large organizations and can be obtained through volume license agreements.
To learn more about Office LTSC read on: What is Office LTSC 2021? Everything you need to know.
Microsoft 365 Subscription
Microsoft Publisher can also be accessed through a Microsoft 365 subscription, which provides access to a variety of Microsoft Office applications, including Publisher.
You can check the available Microsoft 365 subscription options that give you access to Publisher by going to the Microsoft portal. Keep in mind that you need to pay for the license on a monthly or a yearly basis. If you predict that you would use Microsoft Publisher long term, then a perpetual license like Microsoft Office would be more cost efficient.
Microsoft Publisher for MAC
The mentioned Microsoft Office editions, including Publisher, are available for Mac users, allowing also macOS users to have access to Publisher.  So regardless of the operating system used, both Windows and Mac users can get Microsoft Publisher through the respective Office editions. Please note to select the license for MAC, e.g. Microsoft Standard for MAC.
Conclusion
Microsoft Publisher is a powerful desktop publishing application that caters to a wide range of users, from individuals to small businesses and large enterprises. With three distinct ways to access Publisher, Microsoft ensures that all users can find a suitable pathway to unleash their creative potential and communicate their message effectively. Whether you opt for Microsoft Office Professional, Office Standard/Professional Plus with volume licensing or a Microsoft 365 subscription, Publisher stands ready to empower you with its intuitive interface, vast template library, and versatile design tools.
Need Help Choosing the Right Office Package with Publisher? Contact Us for Assistance! Softtrader Offers Office pre-owned Licenses at Up to 70% Off!