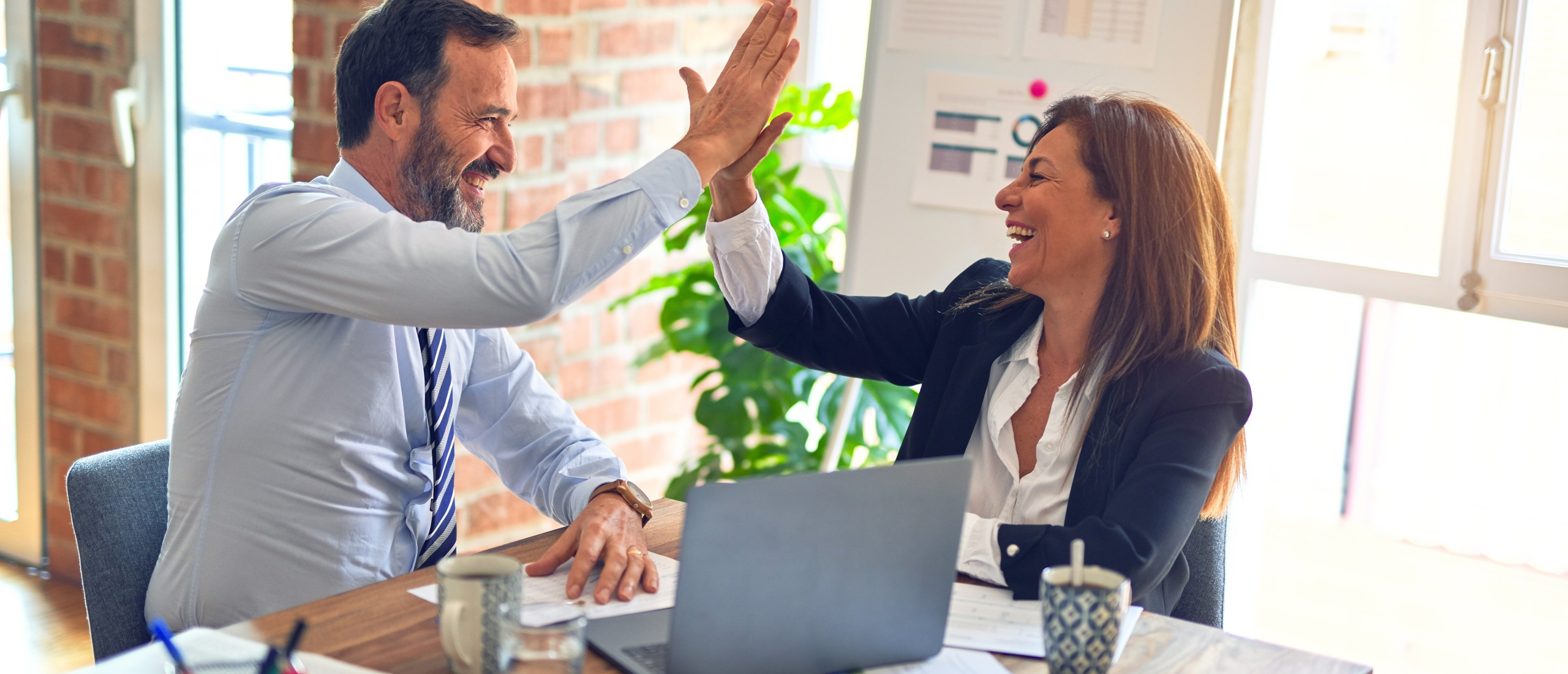 What are the differences between Windows Server 2016 Standard and Datacenter?
Windows Server is a server operating system created by Microsoft. Windows Server accounts for approximately 33.5% of the global server operating system market. This article explains the differences and similarities between two Windows Server 2016 variants: Standard and Datacenter.
What are the Similarities Between Server 2016 Standard and Datacenter?
1. Nano server
New to Windows Server 2016, it is a remote management server operating system designed for private clouds and data centers. It's compact (consuming just over 512MB of disk space and about 256MB of memory), quick to set up, and largely undemanding when it comes to updates and system reboots. In fact, Nano Server is quite similar to Windows Server in Server Core mode, although it has fewer requirements. In terms of usage scenarios, Nano Server is perfect in the role of "compute" host for Hyper-V VMs, including those in clusters. It can also be used as a storage host for Scale-Out File Server, as a DNS server, and as a web server with Internet Information Services (IIS).
2. Storage Spaces Direct
This solution provides a way to create a highly scalable, software-defined storage unit with the basic features of a traditional SAN or NAS, while still staying within your budget. The technology is based on standard servers with locally attached disks and includes features such as caching, storage tiering and erase encryption. Two deployment options are available: hyperconverged and converged, which greatly simplifies the deployment process.
3. Cluster Rolling Upgrade
This technology allows you to upgrade the operating system of cluster nodes without stopping the Hyper-V or Scale-Out File Server workloads running on the nodes. In other words, this is a way of minimizing or even completely avoiding downtimes. This functionality does not require additional hardware to use or the presence of a new cluster. The upgrade process can be rolled back unless you choose point-of-no-return.

What are the differences between Windows Server 2016 Standard and Datacenter?
Windows Server Datacenter is suitable for companies with heavy workloads, large virtual infrastructures and high IT requirements. Datacenter supports all functions available in the Standard variant, with the important difference that many functions in the Standard variant can do more.

The Standard variant is perfect for smaller companies and therefore contains fewer options or the options are less advanced. Data center, on the other hand, contains more options or they are more advanced. This variant is perfect for large companies.

The table below shows a comparison of the two variants. A number of additional points are discussed below the table.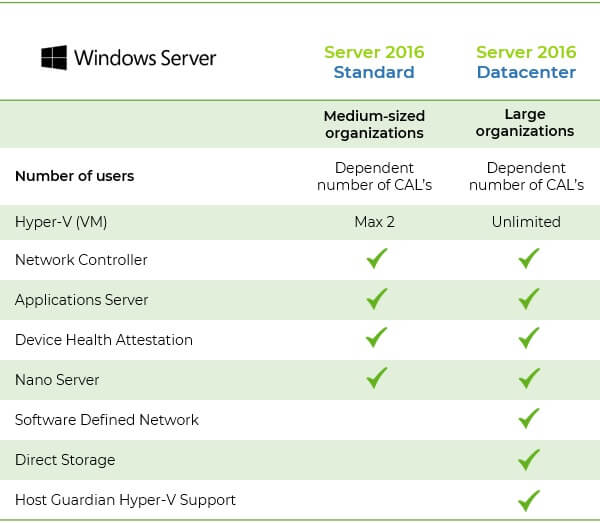 1. Virtual Machines (VMs)
The number of virtual machines you can create is unlimited in the Datacenter variant. In the Standard variant, the limit is 2. As in the Standard variant, however, only one Hyper-V host per license is available from Datacenter.
2. Shielded Virtual Machines
Windows Server 2016 Datacenter supports shielded virtual machines and provides additional protection and encryption. Comprehensive security capabilities include secure boot, TPMs, and disk encryption, enhancing protection against malware and insider threats. The Host Guardian, another part of the technology, provides support for Hyper-V hosts and the use of shielded VMs. The functionality is not available in the Standard variant.
3. Containers
With regard to containers, there are no restrictions in the Datacenter variant. You can create an unlimited number of Windows and Hyper-V containers. With the Standard variant, you can only create a maximum of 2 Hyper-V containers. Containers simplify the development, deployment and management of your applications.
4. Storage Replicas
Another important element of Windows Server 2016 Datacenter is the storage replicas. This technology provides extensive disaster recovery capabilities by allowing you to replicate data between servers and clusters. Storage replicas are like blocks of data that are collected and stored to prevent data loss, giving you peace of mind. Storage replicas are only available in the Datacenter variant of Windows Server, not in Windows Server Standard.
5. Network controller
The Datacenter variant comes with the network controller. This technology is designed to simplify management, configuration and monitoring of your physical and virtual network infrastructure. This feature allows you to automate network configuration, reducing manual effort. With its Application Programming Interface (API), the feature provides a way to communicate with devices, services, and other network components from one place. Windows Server Standard does not support this.
6. Software Defined Networking
Another function that is not available in the Standard variant, but is available in the Datacenter variant, is Software Defined Networking (SDN). This functionality allows you to centrally configure and manage your network equipment, both physical and virtual. These include routers, switches, gateways, and so on. In addition, SDN can help you improve integration between your virtual and physical networks. With that in mind, SDN is designed to help you lower your overall infrastructure costs.

Microsoft launched a new Windows Server on August 18, read more here!
Read all about Windows Admin Center here.
Buy cheap Windows Server licenses
Are you looking for a cheap Windows Server license? Softtrader is a specialist in second-hand Microsoft licenses, saving you up to 70% on the new price. Softtrader offers Windows Server 2010, 2013, 2016 and 2019. Curious about the price? Request a quote now.
Do you have questions? Contact us!
For more information about which Microsoft software and licenses are best for you, please contact us. We are available from Monday to Friday from 9 a.m. to 5 p.m.