Office 365 is a productivity suite created and curated by Microsoft that is available on a subscription basis. Office 365 combines some well-known Office applications with other productivity services over the Internet. Office 365 is a cloud service and is delivered as Software as a Service (SaaS). You can read exactly what you can do with Office 365 and how Office 365 works in this blog. 
How does Office 365 work?
Office 365 is a package of applications and productivity services that you can purchase on a subscription basis. You can read how Office 365 works here.
Office 365 as Software as a Service (SaaS)
Office 365 can best be described as a Software as a service (SaaS) solution. SaaS is a licensing model in which the software is offered on a subscription basis and the applications are centrally hosted. An advantage of SaaS is that the user can work more mobile, because the productivity suite can be used anywhere as long as the user has internet access. Office 365 uses various cloud functions and is therefore most effective when the device to be used has a working internet connection. The files and photos are stored in OneDrive, unless otherwise specified.
What applications are included with Office 365?
Depending on the chosen Office 365 plan, you will receive a combination of the following Office applications:
Microsoft Word
Microsoft Excel
Microsoft PowerPoint
Microsoft OneNote
Microsoft Outlook
Microsoft OneDrive
Skype
Microsoft Teams
Microsoft Exchange
Microsoft SharePoint
Microsoft Access
Microsoft Publisher
Read more about the applications included in Office 365 in this blog!
Office 365 subscription
If you want to use Office 365 you will have to take out a subscription. There are several Office 365 subscriptions available. You can choose annual or monthly payment. You can read more about the different subscriptions here.
Read more about the disadvantages of Office 365 here.
How do you use Office 365?
In this section you can read how to use Office 365.
Activate Office 365
You can purchase an Office 365 subscription through your Microsoft account. When you try to open an Office app you will have to log in with a Microsoft account with an active subscription to activate the applications. This also applies to school accounts for students.
It is also possible that you have got an Office 365 product key from an online retailer. To activate this key, the user must create a Microsoft account on setup.office.com or log in to an existing Microsoft account.
Get started with Office 365
Below you can read how you can get started with Office 365 as quickly as possible.
Logging in
You can log in with a Microsoft account at www.office.com. You can also log in to Office when you start an application for the first time.
Web version
You can use the web version of the included applications by logging into Office.com with a Microsoft account with an active Office 365 subscription. Here are the applications you can use in the left bar. These are indicated by a red circle in the image below.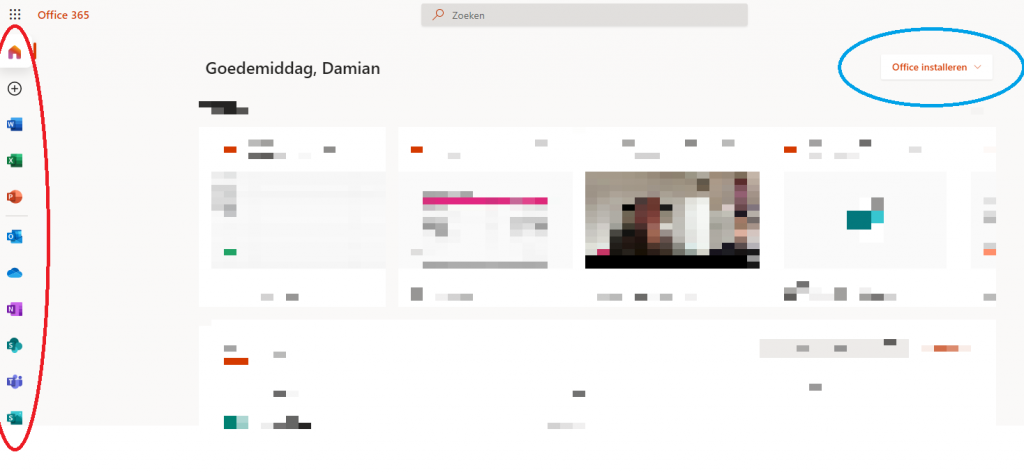 Install the applications
In portal.office.com you will find the web apps of the chosen Office 365 package. In this portal you will find an 'Install Office' button. When you click this button the user gets the choice to install the office apps, when you click on this the applications are installed. When the installation is finished, you can immediately start the applications from the computer. You can also log in to www.office.com, here you can also find an 'Install Office' button. This button can be seen in the screenshot above and is circled in blue.
Office 365 admin portal
Administrators can configure users and certain settings in the Office 365 Admin Center. Everything regarding Office 365 its services, licensing and users is arranged in the Admin Center. The Office 365 Admin Center is a web portal to which users who are designated as Administrators can log in. There are some menus available to the administrators, namely:
Users
Groups
Resources
Billing
Settings
Reports
Health
Admin centers
Buy cheap Office licenses
Softtrader offers a wide range of pre-owned Microsoft licenses. Request a quote below!
Do you have questions? Contact us!
For more information about which Microsoft software and licenses are best for you, please contact us. We are available from Monday to Friday from 9 a.m. to 5 p.m.