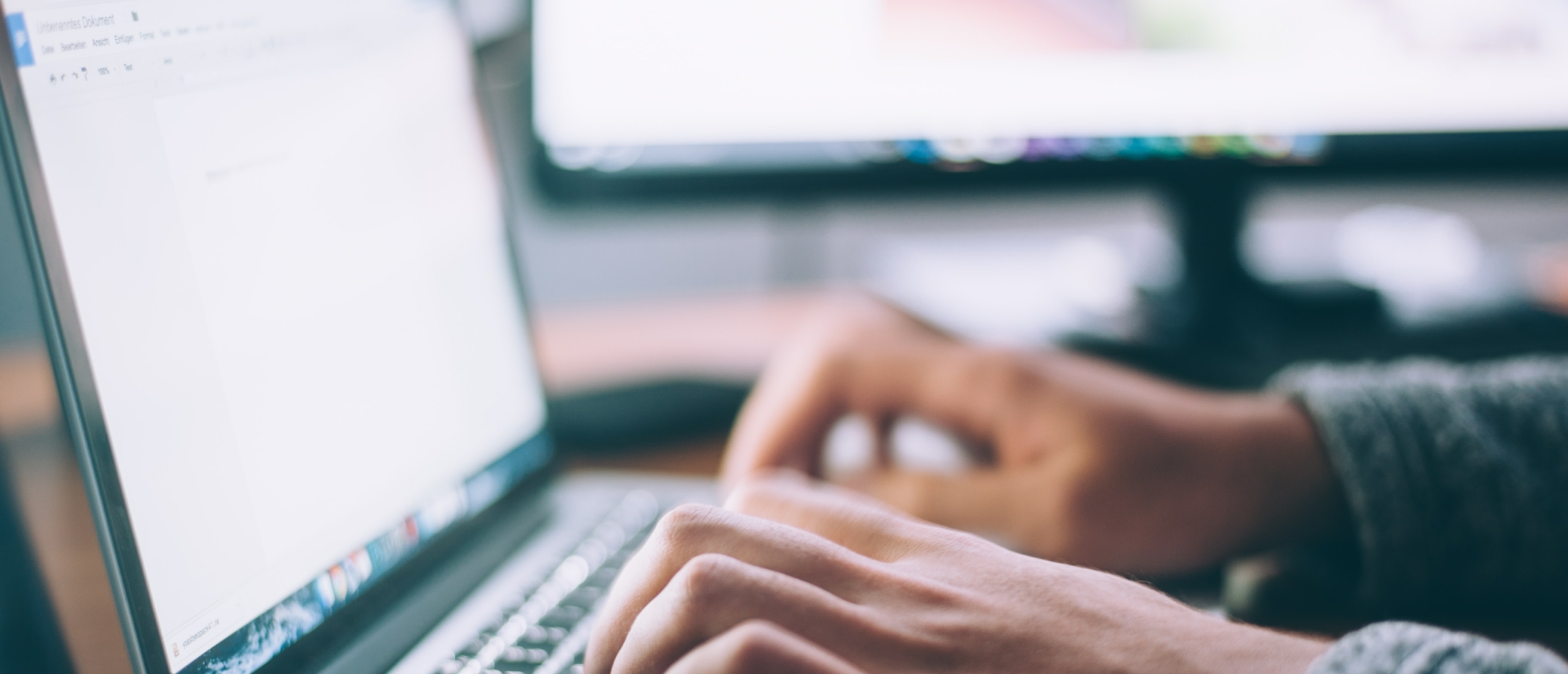 Office 365 for businesses
Office 365 is mainly used by private individuals, but there are also versions for companies and business use available. You can read more about the different versions of Office 365 for business here. You can read what Office 365 can or cannot do for your company in this blog!
1. Always up to date
When you use Office 365, the programs and functions you use are always up-to-date. This has disadvantages, especially for companies.
Pros
Due to the frequent updates of Office 365, your applications are always up-to-date. This can be useful when, for example, a handy new function is added in Excel.
Cons
The biggest disadvantage of Office 365 and being always up-to-date is that it can disrupt existing work processes. Updates are made very often for all Office 365 apps, not always a problem, but often enough things change so that existing work processes have to be performed differently, or can no longer be performed at all. This is a major problem for many companies, especially with the frequency of Office 365 updates.
2. Your files available everywhere
Because your files are in the cloud, you can use them anywhere. With all home workers at the moment, this can come in handy.
Pros
Your files are stored in the cloud. This means that you can access, edit and share your files wherever you have internet access. This can be especially useful in the time when a lot of work is done at home.
Cons
Well, everywhere? Unfortunately, that's not quite how it works. You can access your files wherever you have an active internet connection. If you do not have an internet connection at a certain location or at a certain time, it is possible that a colleague of yours, who does have internet, works in the file, and you in an offline version. This creates multiple versions, which causes confusion and big mistakes pretty often. This either takes extra work, or one of the versions is lost due to miscommunication.
3. Spreading the costs
The Office 365 subscription form prevents you from spending a lot of money initially.
Pros
For the short term, a subscription form is useful. So if you need Office for a few months, Office 365 can be handy. However, you do not buy anything, and when you stop paying you will no longer have access to your applications and cloud storage.
Cons
Office 365 is always more expensive in the long run than an on-premise license. Especially compared to the pre-owned Microsoft licenses from Softtrader. Below you see a graph with a comparison, in which you see that an Office 2019 Home & Business license is already cheaper after 14 months than an Office 365 apps (Contains only the Office applications and 1TB storage) subscription.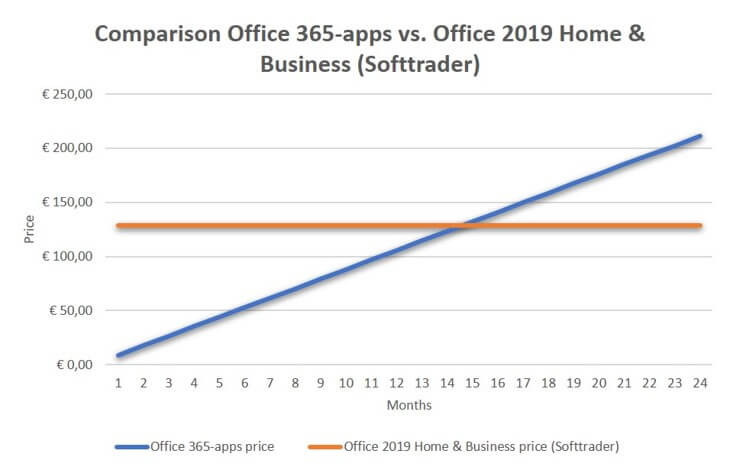 4. Easily scalable
You can take out a subscription for most versions via the Office 365 website. You can easily increase the number of users in your account.
Pros
The easy increases in the number of users save you time. This can be an advantage when your business is growing rapidly. This does not apply to some versions of Office 365 and you must contact the sales department of Microsoft.com in certain situations.
Cons
Scalability is not a specific disadvantage for companies.
5. Enhanced Collaboration
According to Microsoft, Office 365 would allow you to work together easily and well in files and the Teams environment.
Pros
Several Office 365 versions include Microsoft Teams, a platform with which you can chat, call and share files internally with colleagues. Here you can collaborate in files. Collaboration in files is also partly possible via OneDrive.
Cons
Collaboration in both teams and OneDrive often goes wrong. Often it does not sync properly or too late and you work in different versions. Usually one person's work is lost in this, which is very disruptive and a waste of your employees' time. There may also be communication distortion.
6. Safety
Some versions of Office 365 for business provide additional security for your files and data. However, this is often not enough.
Pros
More expensive versions of Office 365 for enterprise include additional layers of security. As a result, the files are protected (as far as possible) in the cloud.
Cons
Your files are stored in the cloud. A hacker with bad intentions will steal your files from here, something that can be a huge problem for companies with sensitive information. We therefore recommend taking the security of your company into your own hands and working with on-premise licenses.
You can find more disadvantages of Office 365 in the following blog:
6 Disadvantages of Office 365.
Read more about Office 365 here.
7. Not convinced? Consider a pre-owned Office license from Softtrader!
For many companies, Office 365 is not convenient or not an option at all. With Pre-owned Microsoft licenses from Softtrader you can easily save up to 70% on costs and you will not have the disadvantages of Office 365! Request a quote.
Do you have questions? Contact us!
For more information about which Microsoft software and licenses are best for you, please contact us. We are available from Monday to Friday from 9 a.m. to 5 p.m.