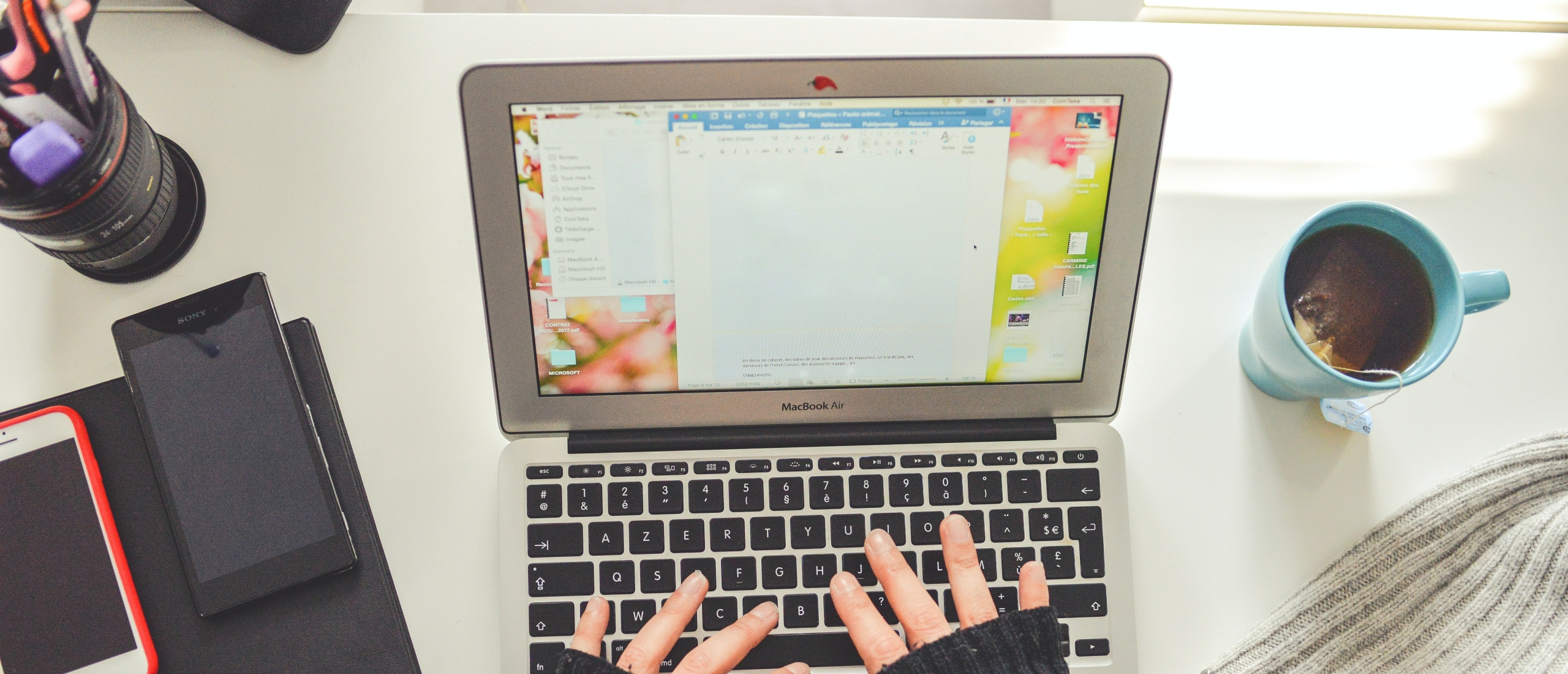 Microsoft Visio 2021: What's New?
On October 5, 2021, Microsoft Visio 2021 was released for one-time purchase by Microsoft. Microsoft Visio is intended for designing complex diagrams. Visio is available through subscription and one-time purchase. We always recommend the one-time purchase option for companies so as not to harm the work processes.
What can you use Microsoft Visio for?
Microsoft Visio is a program in which you can make all kinds of diagrams and schematic drawings by combining figures and text. Microsoft Visio can be used for an incredible number of business applications and situations. For example, consider:
A planner who creates a Gantt chart.
A business owner who makes a brainstorm diagram.
An engineer who makes a flowchart.
An architect who makes a construction plan.
A marketer who maps a customer journey.
And much more.
You can make a schematic overview of almost anything you can think of, and that's what Microsoft Visio is good at. There is an application for Visio in almost every company and function.
Microsoft Visio 2021: Release and Price
Microsoft Visio 2021 was released October 5 by Microsoft and is available on Microsoft's own website. You can choose a subscription form or a one-time purchase. With the subscription form, you get an 'online' version. This online version gets updated pretty often, and this is annoying for most companies. Existing work processes expire or change due to updates, often at the expense of productivity. The one-time purchase option gets updates less often and will save companies a lot of time and struggles this way. Visio 2021 Standard costs €479.00 on Microsoft's website. Visio Professional 2021 costs no less than €889.00 on the Microsoft website. At Softtrader we don't sell Visio 2021 yet, but you can save a lot of money by buying a pre-owned Visio 2019 license from Softtrader!
What's new in Microsoft Visio 2021 Professional?
In addition to the features we are used to from Visio 2019, there are some new features according to Microsoft:
Improved performance and stability
Forming new Azure;
Forming new Amazon Web Services;
Stockphoto library for images;
New forms of workplace design for social distancing;
Improved collaboration capabilities;
Cosmetic upgrades, redesigned tabs;
New crime scene counterfeit templates;
Read about the new Microsoft 2021 Visio Standard vs Professional here
Read more about the Microsoft Visio software here.
Microsoft Visio installation
When you opt for a Microsoft Visio license from Softtrader, you will receive a product key by email, this is a series of digits and characters that give you access to the use of Microsoft Visio of a certain version. When installing Visio, you will be asked for your product key. If you enter these and continue, the product and with it the license will be activated.
Visio online
Although we do not recommend that companies opt for the subscription version of Visio, we still think it is important to inform you about this option. You can choose from 2 subscriptions, Visio subscription 1 and Visio subscription 2. With the first subscription you can only use Visio via the web version, with the second subscription you can use Visio via the web version, but also via the Visio desktop app. Both plans come with 2 GB of OneDrive cloud storage.
System Requirements Visio 2021
The table below lists various system requirements of Visio 2021.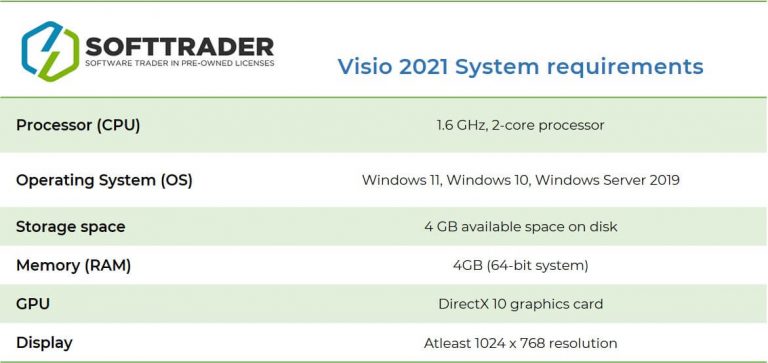 Buy cheap Visio licenses
Looking for a Microsoft Visio license? Softtrader offers used Microsoft Visio licenses, so you can easily save up to 70%. Request a quote!
Do you have questions? Contact us!
For more information about which Microsoft software and licenses are best for you, please contact us. We are available from Monday to Friday from 9 a.m. to 5 p.m.