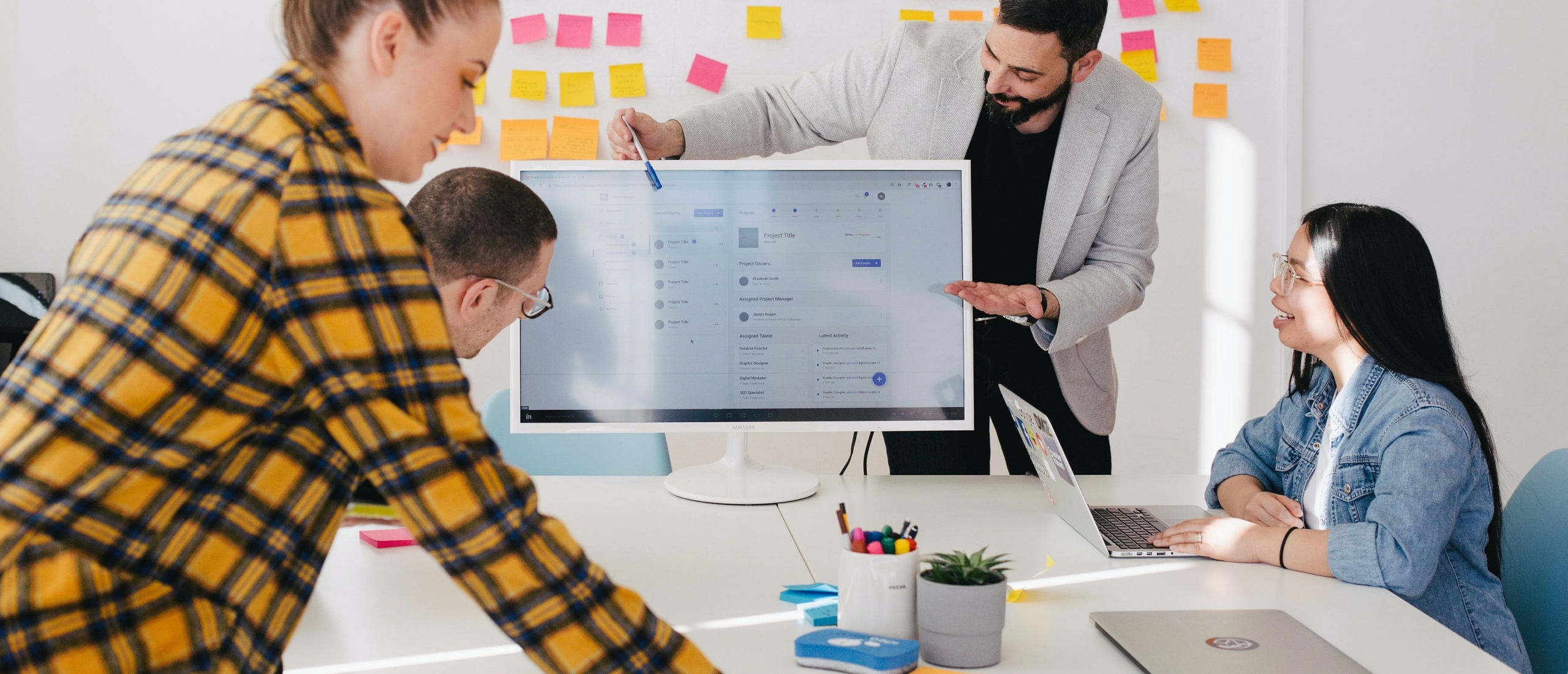 What can you do with Microsoft Visio 2019? (+ new features)
With Visio, you can turn complex text and tables that are difficult to understand into visual diagrams that communicate information at a glance. This blog explains what Visio is exactly, identifies and describes the latest features, identifies the differences between Standard and Professional, and lists the server requirements.
What is Microsoft Visio?
Microsoft Visio is a software program for drawing a variety of diagrams. For example, think of flowcharts, organization charts, construction drawings, floor plans, process flowcharts, business process modelling, swimlane diagrams, 3D maps and much more. The diagrams you create with Visio are customizable and look much more professional than the ones you might be used to in programs like Word. More than 250,000 shapes and symbols are available for use within the program to customize each diagram to your specific and ideal look. The large number of design templates available is suitable for any business need. These diagrams themselves can also be in many different forms, from block diagrams to flowcharts and timelines.
What's new in Visio 2019 compared to 2016?
Below are some of the new features of Microsoft Visio 2019:
1. New chart templates in the Flowcharts category
Templates include Basic Flow Chart Data Visualizer and Cross-Functional Flow Chart Data Visualizer. With these templates you can create simple flowcharts with the data you have in Excel.
2. New Unified Modeling Language (UML) tools
UML communication, component, and implementation diagrams are possible in Visio 2019. UML component diagrams help show the relationships and interfaces between them. The deployment versions reflect the architecture of software deployment.
3. Visio Wireframe
A wireframe serves as a visual model for a blueprint interface. Visio wireframe lets you create low-fidelity sketches to present ideas. The sketches can even help your team come to an agreement on a particular issue.
4. Improved AutoCAD Support
Visio 2019 makes it possible to import AutoCAD files and work with shapes faster. Autocad 2017 files or files from previous versions can be viewed in this program. Microsoft has set the Visio drawing scale to match the AutoCAD viewport scale.

What are the differences between Microsoft Visio 2019 Standard and Professional?
Below you can see which extra functions are included with the professional version of Microsoft Visio 2019. Some of these have already been discussed above.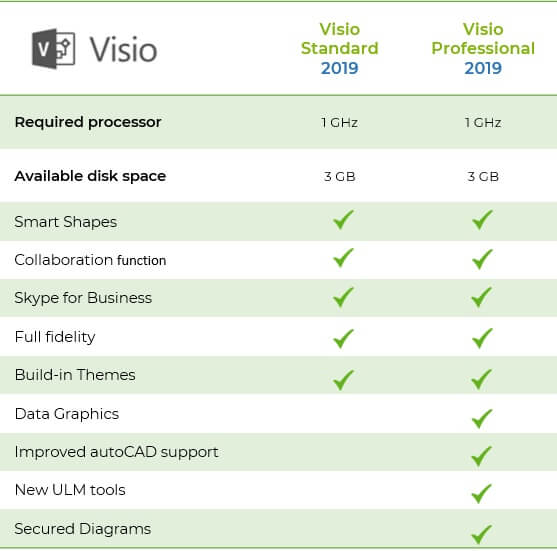 System Requirements Microsoft Visio 2019
1 GHz or better x86/x64 processor with SSE2 instruction set.
2 GB of free hard disk space available.
1 GB RAM (32-bit) / 2 GB RAM (64-bit) RAM.
Windows 8, Windows 7, Windows Server 2008R2, or Windows Server 2012 with .Net 3.5 or higher.
Hardware graphics acceleration requires a DirectX10 graphics card and a minimum resolution of 1024 x 567.
Meanwhile, Visio 2021 has been released. Read more about Visio 2021 here.
Read about the new Microsoft 2021 Visio Standard vs Professional here
Buy cheap Microsoft Visio licenses
Are you looking for a cheap Microsoft Visio license? Softtrader is a specialist in second-hand Microsoft licenses, saving you up to 70% on the new price. Softtrader offers Windows Visio 2013, 2016 and 2019. Curious about the price? Request a quote now.
Do you have questions? Contact us!
For more information about which Microsoft software and licenses are best for you, please contact us. We are available from Monday to Friday from 9 a.m. to 5 p.m.