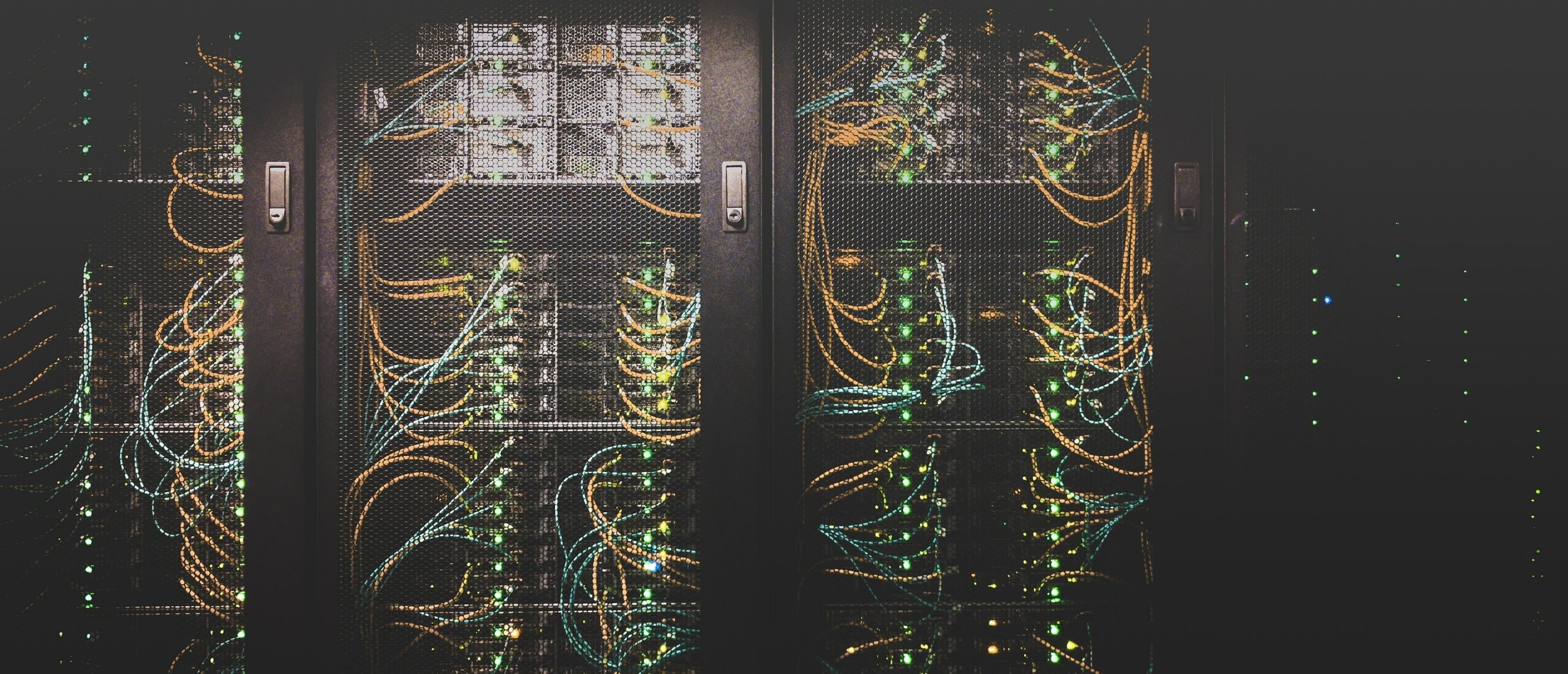 Windows Server 2022: Features, Editions & Release
Windows Server 2022 was released on August 18, 2021. Windows Server 2022 is part of Windows' long-term service channel (LTSC) and has some new functionalities. We discuss the main features here.
Windows Server 2022 release and availability
Windows Server 2022 support started on August 18, 2021, since August 20, 2021 it is possible for customers to purchase the new Windows Server 2022 through Microsoft's Volume Licensing Service Center. There are three variants, Standard, Datacenter and Datacenter: Azure edition. The release is a Long Term Servicing Channel (LTSC) release, which means that companies can get 10 years of support, 5 years of mainstream support and 5 years of extended support
Windows Server 2022 functionalities
Windows Server is a line of server operating systems. Servers are systems designed to send, store and receive data to other computers. Windows Server 2022 has several new features, according to Microsoft, Windows Server 2022 users can expect the following new features:
Advanced multi-layer protection.
Secure core servers, attack protection to protect data and information. The 'Secured-core servers' are built on 3 pillars: Simple security, Advanced security and Preemptive defense. These three pillars are explained in the next section.
Secure connectivity, Windows Server 2022 uses TLS 1.3, the latest and most widely used security protocol. TLS 1.3 encrypts the data to ensure secure communication between two points.
The DNS client in Windows Server 2022 now supports DNS-over-HTTPS (DoH).
Azure hybrid capabilities make it easier to extend your data centers to Azure.
Improved Windows Admin Center.
Nested virtualization for AMD processors.
Windows Server 2022 Secured Core Servers
The secured-core server consists of three pillars:
Simple security, Windows Server 2022 is easy to configure through the Windows Admin Center, here you can easily enable security features such as the secure core servers.
Advanced security, secured-core servers use hardware, firmware and operating system capability to protect the system from current and future threats. This is done through Hardware root-of-trust, firmware security, and virtualization-based security (VBS).
Preemptive Defense, Secured-core also proactively defends against attackers attempting to attack or disrupt the system.

Windows Server 2022 editions: Standard, Datacenter and Datacenter: Azure edition
Windows Server 2022 is available in different editions. Below you can read more about the three released editions.
Microsoft Windows Server 2022 Standard Edition
The standard edition of Windows Server 2022 is the base package of the three. Many of the features are available, but some are missing such as the Storage Replica option, Storages Spaces Direct, and the Host Guardian Hyper-V Support. It also lacks hot patching (applying updates without having to reboot all systems) and software-defined networking. With the Standard Windows Server 2022 license you get the possibility to run 2 virtual machines, with one Hyper-V host per license. The standard edition contains the core functions that are discussed in the functionalities section, such as the secured-core servers and new TLS.
Microsoft Windows Server 2022 Datacenter Edition
The Datacenter edition of Windows Server 2022 is a step up from the standard edition. Software-defined networking is included with this version of MS Windows Server 2022. The Datacenter edition also offers unlimited Storage Replica and also comes with the Storage Spaces Direct feature. Hotpatching is not included with the Datacenter Edition. The Datacenter edition is also a big step up in the number of virtual machines, because the Datacenter Edition offers unlimited virtual machines, and just like the standard edition one Hyper-V host per license. This edition also supports shielded virtual machines.
Microsoft Windows Server 2022 Data Center: Azure Edition
The Windows Server 2022 Datacenter: Azure edition is the biggest edition of the three. This edition is supported on Azure and also offers many useful features that the other editions do not offer. For example, the Azure edition offers SMB over QUIC, Hotpatching and Extended Networking. The Windows Admin Center has also been supplemented with the following Azure menus:
Azure Hybrid Center
Azure Kubernetes Services
Azure Backup
Azure File Sync
Azure Monitor
Azure Security Center
In addition, this edition, like the Datacenter edition, comes with unlimited virtual machines and one Hyper-V host per license.
Read all about Windows Server 2022 compatibility here.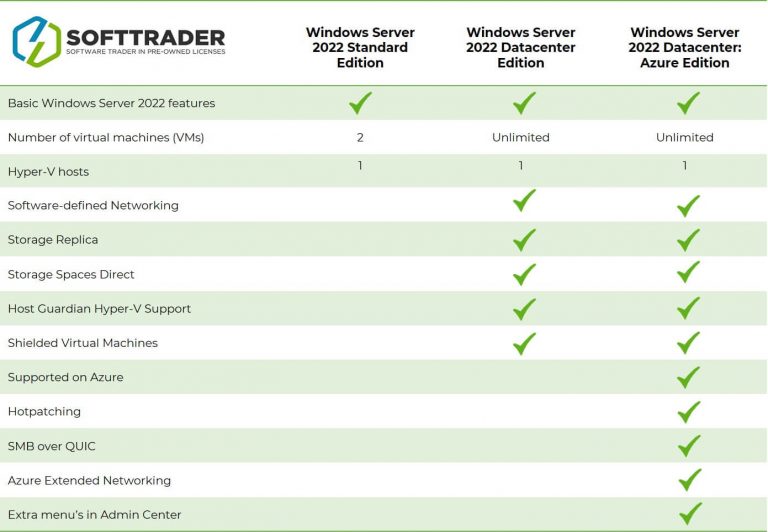 Windows Server 2022 vs 2019: Overview
Listed below are some differences between Windows Server 2019 and Windows Server 2022.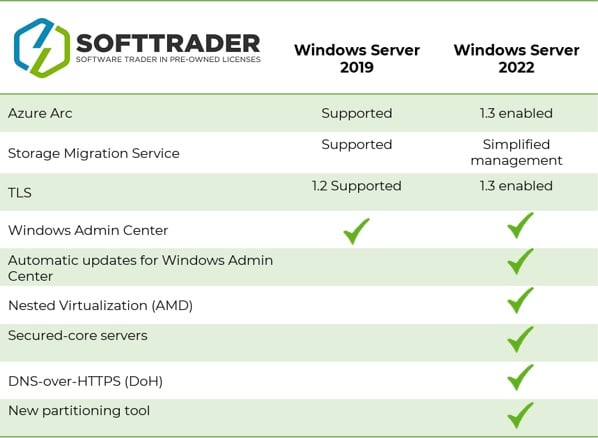 Windows Server 2022 vs 2019: Explained
The table above lists some core features of the new Windows Server version versus the 2019 edition. Below are some differences and their appreciability explained.
Azure Arc: Azure Arc provides control over a range of resources across Azure, the multicloud and on-premises. This can be seen as a bridge connecting everything within your company. Azure Arc makes this incredibly easy to manage. Azure Arc comes enabled by default on Windows Server 2022, Windows Server 2019 supports Azure Arc but does not come preinstalled with it.
Storage Migration Service: Storage Migration Service makes it easier to migrate data to Windows Server or to Azure. Storage Migration Service comes with a tool that inventories the data on your system, and can then move it to a server. Both Windows Server 2019 and 2022 support Storage Migration Service, however with MS Windows Server 2022 it has been improved and easier to use.
TLS: TLS stands for Transport Layer Security. TLS is indispensable during security between two endpoints. This ensures that the data that is sent is encrypted. Windows Server 2019 supported up to TLS 1.2. Windows Server 2022 uses TLS 1.3 by default.
Windows Admin Center: This application is used for the management of Windows Servers, clusters, Hyper-converged infrastructures and Windows 10 computers. This management tool can be found on both Windows Server 2019 and Windows Server 2022.
Automatic updates for Windows Admin Center: Windows Server 2022 supports automatic updates for Windows Admin Center, with Windows Server 2019 this must be done manually.
Nested Virtualization: Nested Virtualization makes it possible to run a virtual machine within another virtual machine. This makes it possible to create your own virtualization environment. This allows you to allow multiple guests on 1 system at the same time.
Secured-core servers: Secured-core servers are possible on Windows Server 2022, they are easy to enable. Windows Server 2019 does not have this capability.
DNS-over-HTTPS (DoH): DNS-over-HTTPS is enabled on Windows Server 2022.
New partitioning tool: The new partitioning tool makes it possible partly with nested virtualization to let other virtual machines use certain graphics cards, this makes it possible to boost performance of certain users.
Want to buy a Windows Server license?
Are you looking for a Windows Server license? At Softtrader we have a wide range of Windows Server licenses. You can also purchase the corresponding CALs from Softtrader to license your users and devices. You can also contact Softtrader for other Microsoft licenses. Request a quote here!
Do you have questions? Contact us!
For more information about which Microsoft software and licenses are best for you, please contact us. We are available from Monday to Friday from 9 a.m. to 5 p.m.